We are committed to building a world where everyone is fully included as a contributing citizen – in their community. We have assembled a wide range of resources that we hope will assist you on your journey to inclusion in your community.
PATH; MAPS & Circles – an extensive collection of resources
is an extensive collection of books and articles – MOST are free downloads – grouped by author – representing a 'slice' of the deep roots – decades of foundational work on inclusion by many like minded thinkers and advocates.
Inclusion has emerged through the relentless efforts of many people. We have gathered some of the books, articles and videos created by some of our close friends and colleagues. No list is complete – but there are invaluable resources available to you in this collection if you are interested in making change…
Many of the resources we have gathered are no longer in print – but the wisdom, learning and stories they reveal remain fresh and relevant. Deep deep and enjoy.
Powerful teams need solid values, mastery in skills, and the capacity to listen and unpack the gifts and capacities of people we work with. We hope these resources are helpful.
A collection of links to organizations and programs that we hope will be useful to you. They broaden our reach and thus increase our capacity.
A collection of links with a focus on resources for schools and literacy programs.
The impact of colonialism in its many facets is still alive and causing harm. These links document elements of the current Canadian (and basically North American) struggles (and abuses) of slow genocide policies that were designed to eliminate indigenous peoples. The parallels to the eugenic policies and practices imposed on people with disabilities have frightening parallels.
In 2001, Inclusion Press created a CD-ROM titled Tools for Change. It was a 15 year compendium of resources we had used in many contexts. The CD-ROM is no longer available, but the contents are now here for your use – free. We hope they are useful.
ABCD in ACTION (the Contents of the ABCD DVD)
Parallel to the book "Who Cares Enough to Act", we created a CD-ROM entitled ABCD in ACTION. It was travelled around the world and been a powerful resouce for this work. However, CD-ROM technology is 'history', so we have finally put all the content of the CD on line – so you can once again access to brilliance of Mike Green, Henry Moore and John McKnight.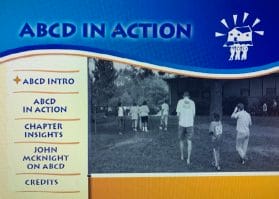 This remarkable resource from Inclusion Albert comes in five sections:
Why Choose FMS? features videos of families sharing their experiences with FMS followed by more information on FMS itself and additional videos with families on the benefits and costs of FMS.
Your Family Vision covers critical ideas to think about in crafting a vision and planning for an inclusive life based on a person's gifts.
Community Pathways highlights 8 avenues in which individuals can be immersed in the pursuit of a meaningful life of relationships, participation and belonging.
Organizing Supports discusses the critically important role of staff while providing insights into the art of facilitating inclusion.
Managing FMS provides an overview of negotiating funding with government and the responsibilities that come with funding.