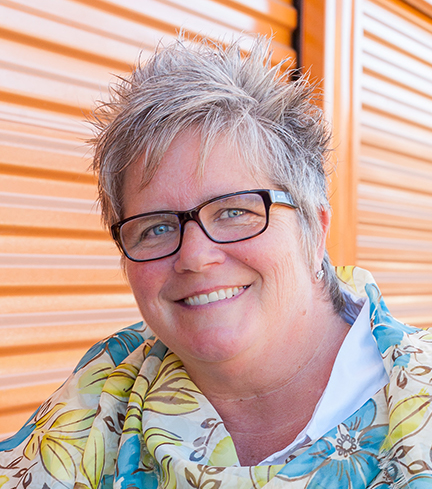 Beth Gallagher is the founder, owner and CEO of Life Works. Life Works was founded in 2004. Her work with people with developmental disabilities began just weeks after graduating from California State University, Chico in 1986 with degrees in Child Development and Psychology. Beth has spent the past 3 decades creating unique and specific support strategies for individuals who have been underserved within the developmental disability system. She shares her gift of curiosity when thinking "what more is possible?" for the stakeholders of Life Works. How can we create opportunities for him to contribute? How can community benefit from his gifts?
Collaboration is entrenched in Beth's personal philosophy as well as the philosophy of Life Works. When asked what her mission is Beth says, "My hope for Life Works is that we can team with people to achieve unique, customized and fully realized lives. We want to do this one person at a time in a way that makes particular sense to that person."
Because Beth has chosen to work with people that have been historically under-served or misrepresented, she has spent a great deal of time studying methods of design and strategy that allow people to be heard and understood as individuals. Beth is the co-creator of the planning method called Liberty Plan used as a facilitation tool for individuals, groups, families and agencies. Beth also collaborated with Kirk Hinkleman to write Intentional Teaming: Shifting Organizational Culture. This book takes a look at initiatives to appreciate the unique gifts of the people providing direct support.
What More is Possible for Jaoquin is an article co-authored by John O'Brien and Beth – telling the story and the struggle for a young man to begin a new and real life in his community.
Kirk Hinkleman is the Director of Life Works. Having worked in the human services field since 1998, Kirk has a wide range of experience working with people with unique and challenging support needs. Upon graduating from the University of California, Santa Barbara in 2001, with a degree in Sociology, Kirk shifted his career focus to working with adults looking to live fully inclusive, independent lives in the community. Kirk met his now business partner and co-creator of awesome, Beth Gallagher, in 2007. The pairing has proven to be dynamic every step of the way. Kirk is committed to dismantling archaic structures, systems and thinking as it pertains to people who experience disabilities finding valued social roles in neighborhoods. Kirk is convinced that we need to view people through a citizen-centered lens if we what we are looking for is real, lasting and sustainable relationships with people.
Co-author (along with Beth Gallagher) of "Intentional Teaming: Shifting Organizational Culture", and Co-Creator of Liberty Plan, Kirk is committed to realizing the highest potential in people while asking Beth Mount's question "What More Is Possible?" When asked about his mission, Kirk says: "We need to shatter the walls our culture and society create that preclude us from making simple human connections with each other in the community and in our neighborhoods. I'm particularly fascinated with the idea of kinship and love. It is my hope, with our foundation of looking at all people as viable, contributive citizens living in community, we are able to embrace the idea that we all inherently belong to one another. Love should drive the path we walk…we are all human, and thusly, all deserve love, dignity and respect."