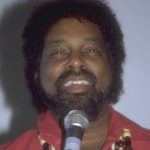 Shafik Asante was a remarkable African American civil rights organizer. He was part of our Inclusion Team at Summer Institutes in both McGill and Toronto.
Shafik Asante – a brief Biography
Shafik Asante – book & video/dvd
Shafik Asante – Videos
It is with deep sadness that we inform our "village" and his many friends, colleagues and co-learners that one of our leaders, Shafik Asante, will no longer be able to give personal advice. Shafik's heart stopped at 10:30 p.m. on Friday, Sept. 5, 1997, in hospital surrounded by family and friends. Shafik's wisdom and capacity to communicate powerful ideas are as relevant today as in the years we collaborated in Montreal and Toronto. We did not 'invite Shafik in" because as he wisely pointed out, HE WAS BORN IN!.
Shafik Asante was born and raised in the city of Philadelphia. As the founder of the New African Voices Alliance, Shafik brought together African American community organizers to fight against the many injustices prevalent in the African American community.As director of COMMUNITY AWARENESS NETWORK, Shafik worked with diverse cultures uniting them in struggles for better community services. Shafik received numerous awards for community organizing and being an outstanding community leader. Shafik gained national and international recognition as both an article writer and presenter. He was an affiliate of the California based Tools for Change and the Canadian-based Center for Integrated Education and Inclusion. Shafik advocated for people with "unrecognized abilities" as well as other diverse groups often excluded from society.For those of us privileged to have worked with Shafik, his wisdom and inspiration will carry on. His "leading ideas" will continue to lead. Who can forget "airplanism", "colorism", "unlearning and relearning", "alliance building", "quilted circles", "villaging" and his enduring capacity to help each and all of us to learn to just live together.
Shafik Asante – book & video/dvd
Shafik Asante – Videos
Shafik Asante & Shina Ahad – a Tribute to their work (video)
Shafik Asante and Judith Snow – at McGill Summer Institute – (early 1990's) (video)