John Daniel O'Leary will be awarded the degree of Doctor of Laws, honoris causa, at the 9:30 a.m. ceremony on Friday, June 10 "in recognition of his lifelong commitment and leadership in advancing literacy among marginalized and under- served communities and his service to the unique educational opportunity offered by Frontier College." Born in Toronto, he studied history and political science at Carleton while playing linebacker for the Ravens football team. He spent a year studying with the Jesuits, teaching in schools in Chicago and Winnipeg, and he lived with the L'Arche community, assisting people with special needs. After teaching literacy in an Ontario prison, he joined Frontier College as a literacy teacher in Manitoba prisons. He then joined the Frontier staff and, in 1990, was appointed president of the organization. His goal was to recruit university students across Canada as literacy tutors for disadvantaged and oppressed people. He now works in development at Teach for Canada and serves on the boards of the Christian Resources Centre and the Toronto Native Friendship Centre.
O'Leary Cartoons – samples welcome
Letters to the Editor – samples
John Daniel O'Leary – Letters to the Editor.. a sample…
---
County Orange Lodge Parade Globe & Mail
July 15
Why is the Orange Order still permitted to march through downtown Toronto? The parade, to commemorate the defeat of Irish Catholics at the Battle of the Boyne in 1690, symbolizes anti-Catholic nativism in Ontario. It is a tangible reminder for Catholics that Orangemen used their influence to exclude Irish Catholics from jobs, business opportunities, social services and municipal office for much of the 19th and early 20th centuries.
They used their patronage in schools, offices and city council to discriminate against Catholics and fan the flames of hatred.
Toronto today is perhaps the most multicultural city in the world. As I watched the children march in the parade, I wondered how many of them knew of the Orange Order's legacy of oppression and exclusion?
The parade is a black mark on this city.
John O'Leary, Toronto
Dec. 24 Globe & Mail
If Russell Smith thinks Happy Christmas by John Lennon is the worst song ever written, then he's never been stuck in a mall listening to Have a Holly Jolly Christmas, by Burl Ives.
John D. O'Leary, Toronto
June 7 Globe & Mail
Eschewing surplusage
One of the things that made American president Calvin Coolidge so dull was his lack of conversation (What's Duller Than Harper? Plenty, In Fact – June 3).
He rarely spoke at cabinet meetings and avoided giving speeches or attending social engagements at the White House. On one of the few occasions when he did attend a reception there, a young woman approached him and said, "Mr. President, I have bet my mother that I can get you to say three words or more."
"You lose!" said Mr. Coolidge, as he turned and walked away.
John D. O'Leary, Toronto
MACLEANS – SEPTEMBER 25 2006
FRONTIER COLLEGE has been organizing after-school reading circles and homework clubs across Canada for disadvantaged children since 1984. Our volunteers, mostly university students, meet with the children at a variety of sites including community centres, churches and inner city schools, and spend two to three hours with them reading and writing, playing chess, and discovering that it's cool to be smart. Our results show that these programs lead to significant improvements in academic and social skills for the children. As Kohn suggests, perhaps the key to success is in what we mean by "homework." A child can learn a lot about geography through discussions about the World Cup, for example. Rather than condemning all homework all the time, let's work at meaningful enriching activities.
John D. O'Leary, President, Frontier College, Toronto
---
Two Words you never want to hear…
John Daniel O'Leary
April 21, 2018
There are two words you don't want to hear from your doctor: "Uh oh…"
But I heard them two years ago while having my left ankle examined after it had been badly broken in an accident. I was running in the Rosedale ravine when I stepped on a rock, fell hard with a broken ankle and shin bone and was knocked unconscious. If I hadn't been with a friend, I would probably still be lying down there.
This story gets worse. Two operations failed to correct the damage, I caught a virus in the leg and I was in my doctor's office for yet another examination when I heard those two words.
The virus was in my blood and, the doctor explained, it could cost me my life. In shock, I was taken to the emergency department at Mount Sinai hospital and my left leg was amputated that evening.
Several months later, I was home, back to work and standing one morning on the subway platform with my new prosthesis and a cane. My moods had been constantly shifting from anger and anxiety about losing my leg to resolve and determination to just deal with it and get on with life.
This particular morning I was also feeling a bit sorry for myself when I turned around and saw the poster for the annual Terry Fox run. There was that full-length picture of Terry, his face showing his courage, as he ran with his full leg prosthesis across Canada on his Marathon of Hope. He ran a marathon with just one leg. Every. Day.
Like all of us, I've always admired Terry Fox, but things were different now. I shared this condition with him. Why not be like him, I thought, even in a small way, by running in his race, raising some money for his cause and sharing in his ability to overcome this handicap.
"Great idea", I thought
"Bad idea", said my surgeon.
This was just too soon, he said, and my leg was not strong enough to run around the block, never mind to run a few kilometres for Terry. OK . This gave me lots of time to prepare and to find a running buddy, someone I could run arm–in–arm within the next Terry Fox Run. This was the easy part. My friend, Melissa, an accomplished runner, enthusiastically agreed to run with me.
This was in May and the run was in September, giving me lots of time to get used to walking briskly and for longer distances than just to the sub-way and back. I began walking from my office at Spadina and Queen and down Spadina towards the lake.
Before my accident, I had been a regular runner, but I was out of shape and the walk was difficult and awkward, with my heavy prosthesis and a cane. I was always off balance, tripping up and knocking into innocent by-standers as I made my way towards the lake. One evening I fell hard. A group of kind citizens helped me up and sat me on a bench.
"This is ridiculous", I thought. "What am I doing?" My good Self answered quickly,
"You're getting used to your new life with that new leg, buddy, and you're honouring the memory and the important legacy of one of the Truly Greats — Terry. Now get up off your ass and get moving!"
Which I did.
Run Day was a cool, bright morning and Melissa and I started early on our run, which weaved its way around the Rosedale neighbourhood, not far from where I'd fallen. Melissa and I'd collected a pile of pledges for Terry's cause, the Canadian Cancer Society, and I had set a goal of running 5K, which Melissa immediately shot down. "We're going 10 !", she announced, as we set off with a pack of runners, and she wasn't asking my opinion about that.
The other runners left us behind quickly and we ran together, alone, for most of the race, down and around the massive homes in Rosedale, occasionally calling out to the wealthy residents to wake up and cheer us on.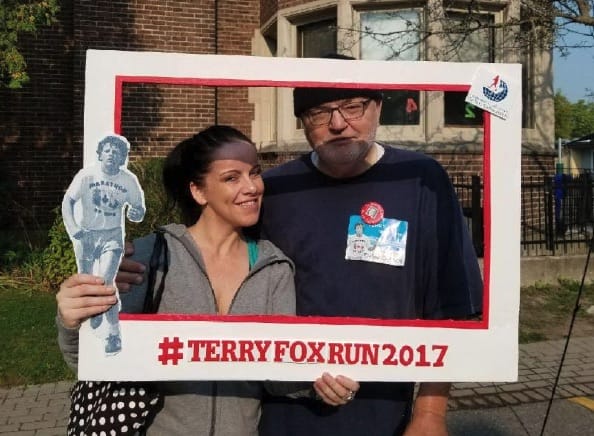 Melissa set a strong pace for our run and it felt wonderful to be moving with confidence again. We stopped regularly for brief breaks and for some juice or oranges and the one time I fell it was in front of the home where Morley Callaghan, the great writer who'd boxed with Hemingway, once lived." Two tough guys ", Melissa laughed, "just like us!"
We finished dead last, but we made our 10 K and we are each beaming in our post-race picture. I felt that terrific combination of exhaustion and exhilaration that you feel after a good workout, a feeling I had thought I'd never have again after my accident.
Melissa and I celebrated over a big breakfast and we shared our thoughts about the race and about what one brave and daring young man had accomplished in running across Canada on one leg and how his spirit lived in the hearts of people like me and Melissa that morn-ing, and in the hearts of runners and sponsors across Canada and around the world, who continue the run that Terry Fox began.
I thought of that wonderful poem by Stephen Spender:
I think continually of those who were truly great.
The names of those who in their lives fought for life
Who wore at their heart the fire's center.
Born of the sun, they travelled a short while towards the sun,
And left the vivid air signed with their honour.