Judith Snow
2000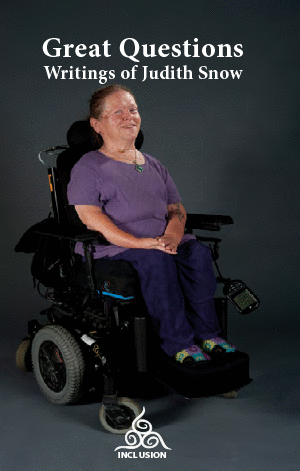 Gleaned from email correspondence with John McKnight
Subject: The Vulnerable Mosaic and The Balanced Off Centre Camp
The April 2000 meeting of the Ontario Enabling Communities Regional Committee was a moment of transformation for us. We looked deeply at the thoughts, feelings and images of who we have been and who we intend to become. We found a renewed identity for ourselves, and with it a new direction and new actions to take.
To mark this new beginning, we took the name: "The Vulnerable Mosaic". This name reflects our Canadian roots, our commitment to build a more hospitable society from the basis of celebrating the gifts of diversity, and our heartfelt understanding that vulnerability and fragility are essential aspects of strong human community.
We decided that we can and must work toward having a place of welcoming, learning, teaching, sharing our understanding. This place would be like a camp and like a retreat. Judith would be central to the activity and arrangements, with support. It would be called Balanced Off Centre Camp. This name reflects that we believe: "If it IS broke, don't fix it!" By responding to fragility and vulnerability with appreciation for diversity, seeking for giftedness, building relationship, and creatively providing support, dynamic stability can be created out of situations of struggle and suffering.