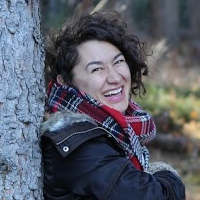 Aanii boozhoo! My name is Jessica, and I am Anishinaabe-French from the Batchewana First Nation. I am privileged to be the Executive Director of the 4Rs Youth Movement, working alongside leaders who are creating capacities for Indigenous and non-Indigenous young people to come together to cultivate understanding and action in support of a type of reconciliation that is relevant to young people.
Jess is the founder of the 4R's Movement that is prototyping the future of youth leadership by building the capacity for conversations that will create real reconciliation. 4R's: Change the relationship. Change can happen.
We are the 4Rs Youth Movement.
Jess Bolduc has also been a leader on the Students on Ice Tours for several years.
VIDEO: Feeling at Home, in Our Own Home: Reconciling Indigenous Belonging – Jessica Bolduc