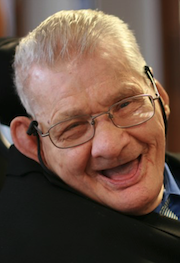 MADISON – Darwin Ness, age 90, of Madison, passed
away peacefully at his home on Jan. 22, 2021.
Darwin had an amazing life journey. His life
is an inspiration to all of us. Read on.
Darwin had an amazing life journey.
He was born May 31, 1930, to Joseph and Ida Ness, on a farm near DeForest, Wis. Blessed with beautiful blue eyes, a great smile, and a lifelong gregarious demeanor, he had cerebral palsy and never walked or talked. He was intelligent, had a deep intuition, understood everything he heard, and communicated in many ways. Darwin was a bright and gifted guy! He spent his first eight years with his family, and later in life referred to many activities he had enjoyed on the farm. He had a close, loving relationship with his mother, who imbued him with an abiding sense of self-worth and optimism about life's possibilities. Darwin remembered his mother each day of his life and had the patience of a strong faith that they would eventually be reunited.
This foundation would help Darwin survive the next, difficult chapter in his life. At age 8, on the advice of doctors and others, he was placed in Northern Wisconsin Center, at the time known as Northern Colony, an institution that housed people with disabilities. He would live there for an inconceivable 47 years, losing all contact with his family. In an era when the understanding of disabilities was prejudiced and limited, and when institutions were underfinanced, Darwin would endure a life of deprivation, neglect, and abuse. Years and years with no contact with anyone outside of the institution, no access to a wheelchair, and prolonged periods of not even being assisted to get out of bed. He survived through the friendship of fellow residents and of some kind staff, and through his self-confidence and strong belief that something awaited him beyond the institution.
Later, Darwin's self-advocacy would inspire thousands around the world living in similar confinement. But surviving was only one part of Darwin's journey, as the next chapter in his life so vividly testifies. Darwin had dreams of a different life.
In 1985, Wisconsin began a program to allow people who were institutionalized to move to the community. Darwin was among the first to qualify. While visiting Northern Center to implement this program, staff from Dane County Human Services met Darwin, who introduced himself by moving his wheelchair toward the exit door, pointing to himself and the door, and letting everyone know he wanted out! Arrangements were made, and staff from Options in Community Living, Inc. met Darwin and assisted him to move back to Dane County. Options helped Darwin establish a new, self-determined life in his own apartment in Madison.
In October 1985, Darwin met his primary supporter, Randall Wilkins. They bonded immediately and thus began a life-changing, loving relationship that would last for over 35 years. With Randy's support and encouragement, Darwin thrived. Randy became a guide, mentor, and a student in their travels through life together. Randy's presence in Darwin's life allowed Darwin to be all he could be, and the rest of us are richer for their partnership.
There is a long and outstanding list of others who supported Darwin to live his best life, both at Options and at Community Work Services, and Darwin was thankful for all. In no order, and with deep apologies to many who supported Darwin not listed, we thank Emma, Monica, Peter, Betsy, Kim K., Kris, Gail, Julie, Alice, Kathryn, Beth, Jule, Dani, Tom, Jeff, Jen, and Kate.
Once Darwin was comfortably settled in Madison, his goal was to make up for lost time! Community Work Services, a vocational support organization for people with disabilities, helped find the perfect job for Darwin as a clerk at the Wisconsin Department of Health Services. He worked in the Secretary's office for 35 years, retiring at age 89 only due to the pandemic. He loved to work and made many friends and received awards from both Governors Thompson and Doyle for his contributions.
Darwin was a longtime member of Bethel Lutheran Church, where he made many friends and helped to expand Bethel's inclusivity.
Church was also where he spent time with Christa Decker, an amazing woman Darwin met through their shared connection to Options in Community Living.
After a long courtship, Darwin and Christa were married at Bethel in a grand wedding. Christa lived only a year and a half afterward, but their 30 years together as devoted companions gave them both love and happiness. Christa was the true love of Darwin's life.
Darwin was dedicated to being an advocate on behalf of people with disabilities. In partnership with Dan Remick, Marilyn Wilson, and others, Darwin helped establish both People First Dane County and People First Wisconsin, two self-advocacy groups with goals of eliminating large institutions and allowing people with disabilities to lead full lives in the community. With the guidance of Marilyn, Lisa, Joanne, Cindy, and Fil, Darwin and his fellow self-advocates worked on major goals including the ADA and the downsizing of Northern Center. Darwin wanted nothing less than all the State Centers closed.
At a State Legislature hearing on downsizing Northern Center, Darwin was the only person testifying who had lived there! He was living proof that people not only could but should live in the community to achieve a full life and enrich the world.
Darwin and his housemates made every effort to get out and enjoy life. He was fortunate to live with good friends over the years. They included the late Glen Dillon, Stan Learned, and Dan Remick, and two friends still flourishing: Tom Kaske and Phil Porter. Darwin was ever thankful for their friendship.
Together they tried everything: horseback riding, skiing, exercise classes, arts and crafts, movies, plays, concerts, gardening, cooking classes, polka dancing, canoeing, pontooning, and karaoke. Darwin, Dan and Phil also became the subject of the much-praised documentary "What Is Normal?" by filmmaker Mary Jo Oathout, which was prominently featured at the 2000 Wisconsin Film Festival and is available at https://www.youtube.com/watch?v=xOLXGTfHHns.
Darwin took adventurous vacations, too. His first was a dog-sledding trip in Minnesota (ask Randy about the Sauna and frigid lake plunges!) followed by canoeing trips in Yellowstone, Maine, and the Ozarks, and even a vacation in Hawaii. He attended conferences in Washington, Boston, and Chicago, and went on daytrips including Brewers, Packers, and Badgers games. Darwin was a die-hard Brewers fan and found deep pleasure in lying in bed and listening to a game on the radio.
Darwin also loved to party. Every year he hosted a large picnic at Tenney Park for his birthday, and each Halloween he celebrated his return to the community with a lively bash at his apartment. There were some memorable costumes, including Darwin dressed as a Metro paratransit bus.
Darwin was everything: a devoted son, a survivor, an educator and inspiration to thousands, a warm friend, an adoring spouse, a great advocate, a wonderful housemate, a great adventurer, and a party animal!
To know Darwin was to love Darwin. He will be sorely missed. His story and his legacy will live on.
Plans are being made for both a small graveside service and a larger public memorial gathering, to occur in the summer or fall of 2021. If you wish to be contacted with details when dates are set, please email Options in Community Living at info@optionsmadison.com. To honor Darwin's memory, contributions may be sent to Options in Community Living: www.optionsmadison.com. To further honor the life of this amazing man, reach out to your neighbors and coworkers who live with disability and be open to new relationships. The philosophy that Dane County embraced to welcome our citizens with disabilities as full members of our communities is threatened by new "models" of long-term care, designed to save money. In Darwin's memory, be an advocate.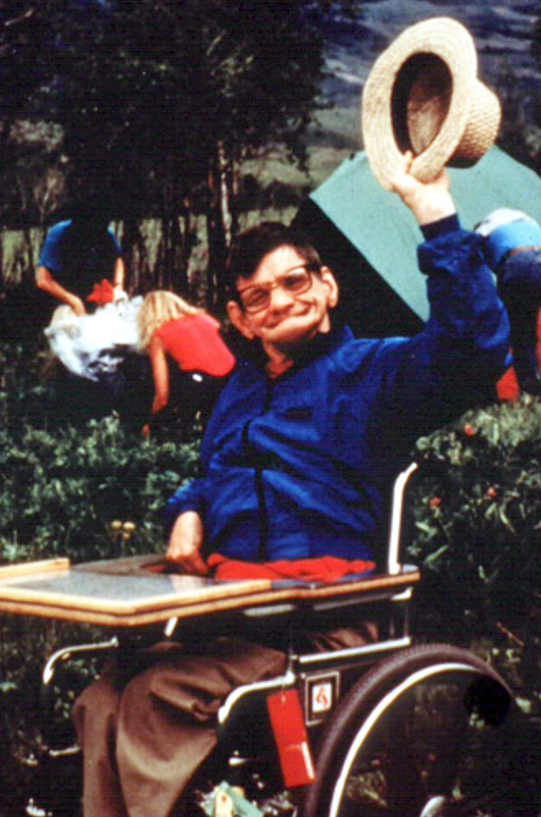 This remarkable story comes to you in tribute to a man who lived life to the full – with a little help from his friends. They cannot all be listed here – but Gail Jacobs passed along this obituary, crafted by his best friend, Randy Wilkins – and their network – a story of triumph we can all learn from especially in these days of covid.

Excerpts from Remembering the Soul of Our Work – a book published by Options for Community Living, Madison WI, in 1992. These articles were written by Options staff – and the selections here are about Darwin Ness.

No products found