Circles of Friends or Circles of Support have been in every society since the dawn of time. We are wired for belonging, connection and being in relationship with one another.
'Circles' is about how we take care of each other in families and communities. It is the 'structure' of our relationships. In Western societies, as wealth and mobility have increased, we are increasingly isolated from one another. We need to remember old wisdom, and learn new habits about how to take care of one another. Thinking about 'gathering our circles' reminds us to focus our attention and intention on our relationships.
Circles of Friends is about this kind of lifelong dynamic. Circles of Friends is not a program. It is a way of living and thinking about our relationships, and acting in ways to sustain them. It has an underlying philosophy of interdependence. In circumstances when we are not able to see one another and find ourselves separated from one another, is critical to think about and act on 'who are my people'?
"Mapping" our relationships helps us 'see' and notice who our people are, and which connections are important for us to nurture and sustain. We all need to notice who is important in your life from time to time. Then, we must be intentional about connecting and reconnecting with those people. It is a foundation for a healthy life.
The books, videos and overheads shared here explore the incredible simplicity, and paradoxically the enormous complexity, of building and sustaining a circle of support so we can all live full lives.
instructions on how to create a Circle of Support taken from the Tools for Change DVD (2000) beginning with a 2020 Preface (pdf)
Circles of Support (Friends) – download
a story from a classroom (1991) that is still relevant – scary thought – Marsha Forest & Jack Pearpoint
Circles of Support Overheads
These overheads have been used to explain the concept of Circles of Support; that we all need people – and the strategy to find them "fill circles" is to fill the third circle – the circle of participation in organizations, activities, interests – where you meet and connect with people!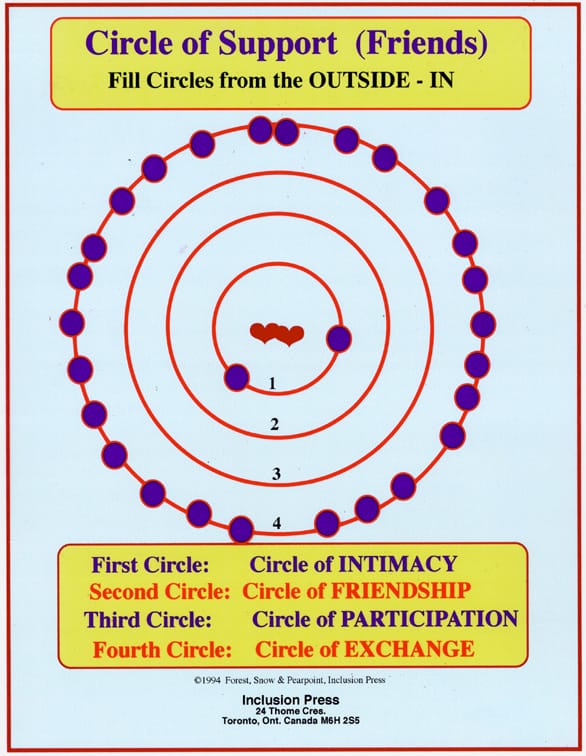 Creating and Maintaining 'full circles' is a sign of health – and resilience for a full life
Abstract: In her typical forthright way, Judith peels back the layers of misunderstanding about the nature of Personal Assistance – and reminds us of the very simple truth – is a form of support for people who are labeled disabled.
another great book of stories about the impact of circles: Remembering the Soul of Our Work (O'Brien and O'Brien)
Circles of Friends – a selection of videos…
Circles of Friends – a selection of Videos
Circles: How to – Resource recommendations
Circles of Friends/Support
Circles of Friends/Support
Stories of Circles in Action
Recommended DVDs