The Ideas that Matter sessions included two presentations (March 11 and March 30) from the Options team in Madison Wisconsin – telling the remarkable story of Darwin Ness – who was employed till he was 89 – and then retired by the Pandemic.
Darwin Ness; Randal Wilkins; Gail Jacob; Peter Leidy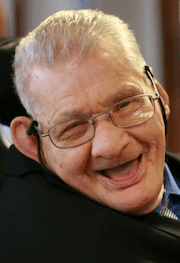 The story of a remarkable man who spent 47 years locked away – and then had a remarkable life of employment until age 89 when the pandemic forced his retirement. This event tells the story of Darwin – the nature of relationships, visible and invisible supports, and how agency support worked.
The Darwin Ness Story in song….
The Darwin Ness Story – Ideas that Matter – as told by Options from Madison. WI on March 11.
The Darwin Ness Story continued – a deeper dive on March 30.