The Story of INCLUSION at the
Hamilton Wentworth Roman Catholic School Board (HWRCSB)
Notice: We honour Jim Hansen's contribution to the futures of children – all children. Jim passed on Aug. 8, 2017 in Hamilton, Ontario
In 2006, Inclusion Press organized interviews with key people who had been the creators and reviewers of the HWRCSB. We had worked with them to create the book Each Belongs – recording the story of the first Board of Education to welcome ALL Students in to regular classrooms – beginning in about 1964. They were decades ahead of their time.
The example of inclusion (then called integration) provided leadership to educators from all over the world. Most came to see if it was really possible – and they left inspired. That inspiration was in large part due to the leadership of Jim Hansen and Phil DiFrancesco. These video clips capture their values, their energy, their wisdom and their commitment. They remain an inspiration.
Two other talks are included in this collection. Gary Bunch – a retired professor of education and a life long inclusion advocate talks about the history of inclusion in Canada. Gerv Leyden, (sadly deceased), was a leader in England – and a close observer and admirer of the HWRCSB for decades. His perspective is invaluable.
The Jim Hansen Videos – short clips:
The Phil DiFrancesco Videos:
Gary Bunch:
The History of Inclusion in Canada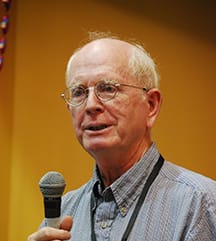 Gerv Leyden: A U.K. Perspective
Articles by Jim Hansen
Jim Hansen, a retired Superintendent has agreed to author a series of articles based on his understanding and learning from Inclusion. Please read and enjoy.
The Hamilton Wentworth Catholic District School Board has a policy of admitting all children, able and disabled alike, to inclusion in their neighborhood school. Placement is age appropriate. This policy has been in effect since 1969.It was my privilege to supervise the development and implementation of this policy from its beginnings in 1969 till my retirement in 1991.I hope that my contribution to this web page may encourage others to advocate for a "good" education for all children. Articles by Jim Hansen.
 1) The Beginning; 2) A Good and Complete Education;  3) School;   4) Our Self-image is a Reflection of What Others Think of Us.