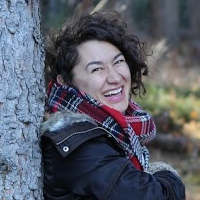 Aanii boozhoo! My name is Jessica, and I am Anishinaabe-French from the Batchewana First Nation. I am privileged to be the Executive Director of the 4Rs Youth Movement, working alongside leaders who are creating capacities for Indigenous and non-Indigenous young people to come together to cultivate understanding and action in support of a type of reconciliation that is relevant to young people.
Jess is the founder of the 4R's Movement that is prototyping the future of youth leadership by building the capacity for conversations that will create real reconciliation. 4R's: Change the relationship. Change can happen.
We are the 4Rs Youth Movement.
Jess Bolduc has also been a leader on the Students on Ice Tours for several years.
Jess Bolduc is Anishinaabe-French from Baawating (Sault Ste. Marie, ON) and a member of the Batchewana First Nation. As the Executive Director of the 4Rs Youth Movement, Jess has travelled across Turtle Island and internationally, in order to learn about the conditions that might be necessary for communities to shift and transform complex systems through dialogue and strategic action. The work of 4Rs is about centering the needs and role Indigenous young people play in moving forward reconciliation between individuals, communities & systems in Canada. As a volunteer, Jess is the co-chair of the newly formed Algoma Community Foundation, and is a Board member for Ki-Ga-do-Waak Nookimisuk and Thinking Rock Community Arts, and a friend of the TSI family.
VIDEO: Feeling at Home, in Our Own Home: Reconciling Indigenous Belonging – Jessica Bolduc