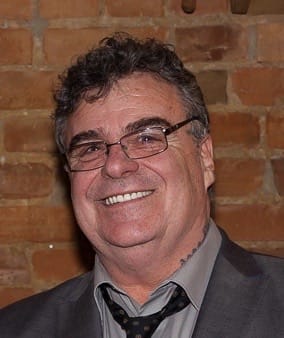 Mountain native Justin Page unlocks the power of voice recognition with newest U-CAN Dictionary
NEWS Jul 06, 2016 by Mike Pearson
Easton, left, and Griffin Corner met U-CAN Dictionary author Justin Page at the June 25 book lanch at Indigo Stoney Creek. – Photo by Mike Pearson
He's written books to help non-readers overcome illiteracy. He co-founded the groundbreaking Beat the Street program in Toronto in the 1980s, earning an Order of Canada investment in the process.
But Justin Page understands first hand the frustrations of Canada's functionally illiterate population.
Last month, the Hamilton Mountain native and author of the U-CAN Dictionary launched his newest books, the U-CAN Voice Reading Recognition Dictionary and the U-CAN Text Dictionary.
Page has overcome illiteracy not once, but twice in his lifetime.
"The first was because the school system failed me and the other was because of a car accident," he said, referencing a 2008 collision.
The U-CAN Dictionary is a handbook for non-readers and new readers. It begins with one one-letter word, then two two-letter words, then three and four-letter words and so on. Designed by Page and his wife, Annmarie, the dictionary breaks the language down to its simplest form.
After launching the first U-CAN Dictionary in 2013, Page developed his voice recognition dictionary that includes words from one to 11 letters, each with a simple one-line definition. The book can be paired with voice recognition computer software, like Dragon NaturallySpeaking.
The end result, said Page, is that non-readers can learn to read using their own words.
The voice recognition software has been a godsend for Page, 65. After speaking clearly and slowly into the computer, his words instantly appear on the screen, with perfect spelling and punctuation.
"Many people have trouble reading. However, the text that now appears on your screen is your message. You know what you have said, so you can read your own words. They are your words," said Page.
Justin's U-CAN Dictionary Collection.
Note: Print copies are available – and free downloads of all are also available.
U-CAN People's Dictionary – for youth
U-CAN TEXT Dictionary – for teens
U-CAN VR Dictionary – for adults
U-CAN Colour Dictionary – for organizations – and everyone
U-CAN Reading Readiness booklet – for youth