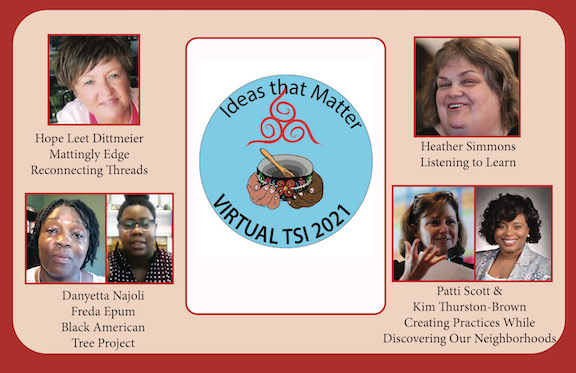 Beginning on Nov.14, in the Virtual Toronto Summer Institute,
The Black American Tree Project conducted an experiential workshop giving participants a 'feeling' of 400 years of colonial oppression. These were developed and presented by Danyetta Najoli and Freda Epum.
Tree Project sessions on Nov. 14 and Dec. 8
Danyetta & Freda have created and are delivering the Black American Tree Project workshops – now virtually. They will describe the evolution, implementation – and the wave effects in communities.
The Black American Tree Project is a collaborative participatory history lesson/immersive performance experience. It is developed in collaboration with Pan- African educators, artists, writers, and non-profit professionals. The project was created in response to the Kairos Blanket Exercise by indigenous Canadian leaders, the Starfire String Exercise by dis/ability experts, and the New York Times 1619 project. The project is a 90-minute interactive workshop that educates audiences about the legacies of slavery in modern American society–especially in the Cincinnati/Northern Kentucky area–and its after- effects in housing, the medical establishment, prison system, schooling, and other areas in which Black Americans are affected.
Black AmericanTree Project. Introduction: L. Danyetta Njoki & Freda Epum
Black AmericanTree Project. 7 Minute Introduction: L Danyetta Njoki & Freda Epum – Nov. 14
Black AmericanTree Project.. Breakout Session: L. Danyetta Njoki & Freda Epum – Nov. 14
Black AmericanTree Project.. Followup Workshop: L. Danyetta Njoki & Freda Epum – Dec. 8
Community Building as a Practice – presentation by L.Danyetta Najoli for Nebraska Person Centered Planning Initiative