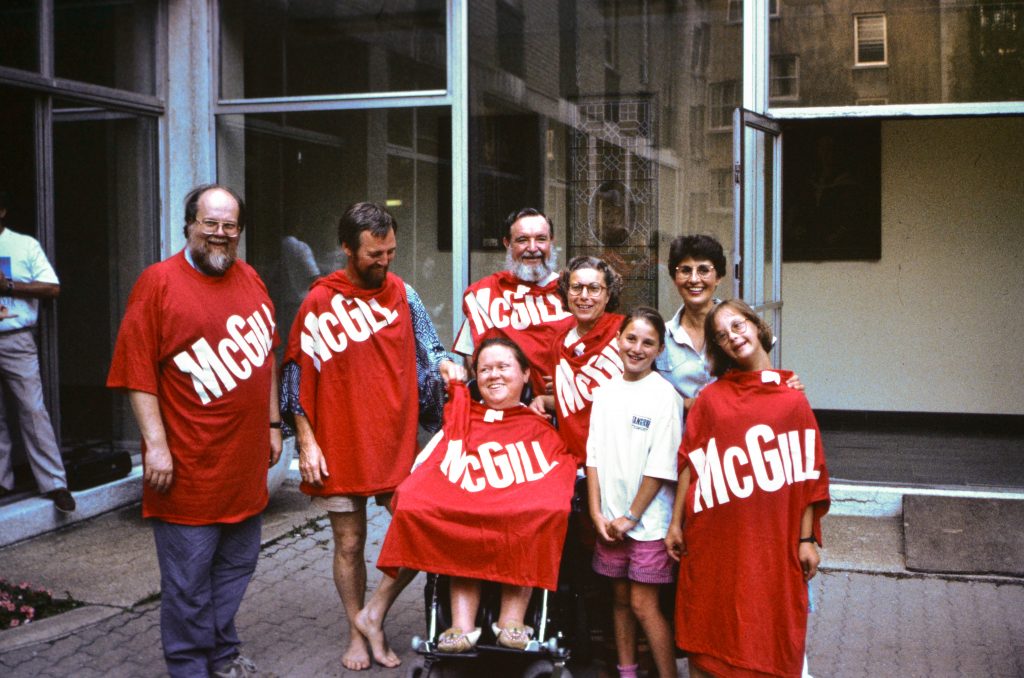 The McGill Summer Institute was a creation of the Centre for Integrated Education & Community (later the Marsha Forest Centre) – with the drive and leadership of Marsha Forest – and her band of compatriots who were committed to a vision of 'Education for all' – Together. The terminology of the time was integration… mainstreaming… The term INCLUSION did not come into this movement until Oct. 1989 when a gathering of frustrated like minded activists from North America met at Frontier College. One of the issues was that terms like 'integration' had been rendered meaningless, so one strategy the group adopted was to begin using the word INCLUSION…
What follows is a limited collection of documents from the McGill Summer Institute archives. They are not intended to be comprehensive, but rather an important historical slice of the complexity and struggles to impact the culture and values of the country and the world to welcome all into full citizenship – one tiny step at a time.
McGill Summer Institute – selected documents (1984-1994)
McGill Newsletter.1993-4.MSummer Institute
McGill SI Feedback overheads.1993??
McGill.SI.July.1993.Notes from Week One
McGill Photo Album 1986https://youtu.be/RGmRydXWamQ
McGill.SI.Pamphlets.1990.91.92.93.94
Graphic Notes.TEXAS.Inst.June.1994
McGill.SI.Pamphlets.1990.91.92.93.94
McGill.SI.Leaving.July.1994.poem
McGill.SI.CONFIDENTIAL.End.docs
the Ethics of Inclusion.Summer Institute.1990's
A Selection of Toronto Summer Institute Documents (the Institute moved to Toronto in 1996)
TSI.A Framework for our Work.1990's
Network Magazine Articles – New Zealand – 1993 – 1994 – Forest & Pearpoint
Network.Mag.Aug.1994.Weaving Inclusion
Network.Mag.Spring1992.ButWhatAboutkids
Network.mag.winter.1992.Common Sense Tools
St. Michael's Integration Photo Album – 1983
CEIC Marketing Booklet – Marsha Forest –
Australia – Rockhampton Workshop photo booklet –
Euthanasia of Persons with Severe Handicaps: Refuting the Rationalizationshttps://inclusion.com/site/wp-content/uploads/2019/07/Euthanasia.Evy-Lusthaus.JASH_.1985.pdf