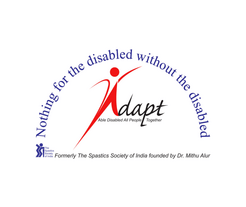 "Working to create an inclusive, disability-friendly nation, from inclusive education to inclusive employment".
ADAPT, formerly The Spastics Society of India, was founded by Dr. Mithu Alur in 1972. Over three decades, from a special school started with three children, it has grown to become one of the foremost non – profit organizations in the country, providing services for more than 3000 children and 10,000 families.
Our services include assessment, infant stimulation, therapy, counseling, inclusive education, skills training and job placement, continuum of support services and home management programmes for children and young adults with disability.
The Marsha Forest Centre has a long history with ADAPT. Gary Bunch has visited several times and among other supports, has assisted in developing inclusive curriculum materials for ADAPT and India. Jack taught the PATH planning approach. The Marsha Forest Centre has supported the inclusive educational outreach supporting an "angawadi"(kindergarten program) in the massive slum (Dharavi) in metro Mumbai.
ADAPT web site http://www.adaptssi.org