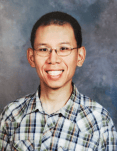 I was born in 1988. I had a severe traumatic head injury when I was 13 months, and was in hospital for months and rehab for years. My injury affects my motor skills, vision, learning, understanding and memory.
Learning wasn't easy, in particular reading, writing and comprehension. I was in special ed throughout my school years, but my mother brought me to special tutors to give me additional help.
Due to my injury, I do not get to participate in activities like other young people. I love animals, and enjoy watching animated movies, especially those about animals. Sometimes story ideas or images pop into my head, and I would quickly draw or scribble on paper or computer before they pop out of my head. Over the years, I have started a few stories based on my own imagination, but each one had only a few pages and they were not finished. They were all buried and forgotten, and I never told anyone about my writings.
Nancy, my independent facilitator, helped me find a good literacy program. I decided to go to Parkdale Read and was matched with my tutor Barbara in 2017. Nancy and Barbara encouraged me to write about things I like. Somehow I remembered that I had some unfinished stories, and I dug out a story called Panda Reunion, which I started in 2013 after visiting the pandas in the zoo. Barbara taught me how to improve my words, grammar, sentence structure and paragraphs, as I continued my writing. It took us two years to finish.
I'm proud of what I accomplished. It took a while, it wasn't easy, but I am very grateful for all the encouragement I have received. I really hope that some day my Panda Reunion story can be made into an animated movie, which would be a dream come true.