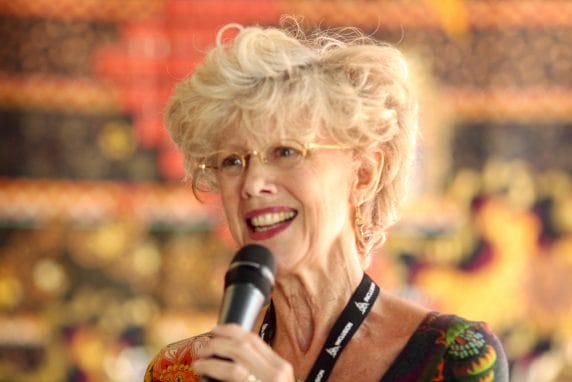 Beth Mount has worked for four decades toward the ideal that every person with a disability can be a valued member of community life. She has practiced the art of person-centered planning with thousands of people with disabilities and their families from every walk of life and from every corner of the World. Her groundbreaking work related to Personal Futures Planning promotes the positive futures and images of people with disabilities throughout the globe, and demonstrates that all of us count and all of us fit somewhere. She has received excellence and service awards from virtually every prominent national and New York State disability organization.
In addition to her social activism, Beth creates art that complements and defines her style of cross cultural and multi-literate communication. She has developed a unique style of fiber art that is both imaginatively graphic and multi-dimensional in detail and meaning. She works with archetypal symbols of transformation, cross cultural fibers and images, and brilliant colors that radiate one grand feeling and gesture of creative expression. She is well known in the disability world for her "Spirit Keeper" quilts which help people communicate the spirit and beauty of personal, organizational and social change.
Beth has helped establish several art studios for people with disabilities, Pure Vision in Chelsea New York, and LAND in Brooklyn, which promote the art careers of visionary artists throughout the world.
Beth Mount Videos (on line)