Description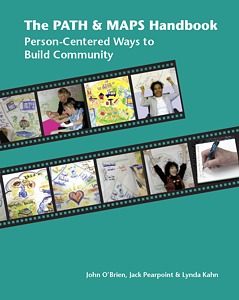 Person-Centred Ways to Build Community:
A course in facilitation and person-centered planning
with PATH and MAPS
Values and principles of Person-Centered Practice  
Building facilitation skills including graphics  and listening skills; exploring,
learning and practicing person-centered approaches
with a focus on PATH and MAPS   
Please refer to FAQ for additional information.
This virtual workshop with course guides Jack Pearpoint and Lynda Kahn is on Zoom over these dates, including:
the 2-hour Orientation Session, Tuesday, May 10 from 9:30-11:30 am Eastern
 Five full days-  Each day, we will start at 9:30 am and end at 4:30 pm Eastern. The daily workshop will be in two blocks of 3 hours (with breaks):

Monday, May 16
Tuesday, May 17
Thursday, May 19
Monday, June 6
Tuesday, June 7

and a Follow-up Session, Tuesday, June 21 from 9:30-11:30 am Eastern
Daily training will be in two blocks of 3 hours (with breaks). There will be opportunities for in-depth conversations on the framework and thinking underneath the processes. We will collectively experience practices that have worked for online facilitation and support. We will explore facilitation practice and values more deeply. We believe the course will be beneficial for folks who will be mentoring/ coaching other facilitators. The group has a proposed size of fewer than 25 people to see each other on-screen better. 
Issues to be explored:
• Underlying Values
• Community building
• PATH & MAPS practice & facilitation
• Skill-building to get stronger
Tuition:
• $695 for the entire workshop – five days, including 2-hour Orientation (May 10) and Follow-up session (June 21, 2022)
• $625/person for people with disabilities/families and team rate per person for teams of 3 or more.
• Course materials included: 3 books, workshop journal & learning journey booklet – (standard shipping in North America for materials included in workshop cost)