Description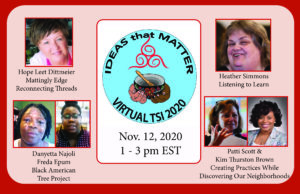 Tuesday December 15th, 2020, 1:00pm. – 3:00pm
Presenter:  Heather Simmons
This year the organisation I worked for decided to use the experience of navigating COVID-19 as the basis for our Annual Report. We didn't want to simply document what had happened but wanted to try and get a real sense of what it all had meant to us.
We gathered the stories of people and their experiences and then tried to see what it might be saying to us. Themes emerged and questions were raised…not all of the questions have immediate answers and the workshop will be an opportunity to share what we found and signpost the questions that need attention paid into the future.
The process of listening and writing has had a profound effect on me and has helped me reconnect with my sense of meaning and purpose. I would welcome an opportunity to share the report and my learning with a group of listeners in the hope of learning more that might help all of us work more deeply.
It would be wonderful if you could join me and lean in to the work done by my colleagues and the stories lived by the people we work for and their families.
'Please verify using a World Clock the time of this session for in your local time zone"