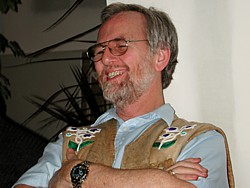 Jack Pearpoint is an independent Canadian Publisher and catalyst for Inclusion, Diversity, Teamwork and CHANGE!
Jointly with his wife and partner, Lynda Kahn, Jack conducts workshops and consults with organizations and collaborates with people with disabilities and their families, to engage in positive change that honours the gifts and contributions of all. Earlier, Jack, his late wife Marsha Forest and John O'Brien, collaborated to create several person-centered approaches such as PATH, MAPS and Circles of Friends. The collaboration continues now with John and Lynda.
Jack's forty years of organization experience include seven years in Africa implementing post-war reconstruction; sixteen years as President of Canada's oldest literacy organization, Frontier College; and nearly two decades as a full-time publisher and presenter.
Jack is the founding director of the Marsha Forest Centre: Inclusion, Family and Community and remains its Executive Director. Jack and Lynda Kahn work internationally and have expanded their network beyond Canada and the United States to include people in Australia, England, India, China, the Netherlands, New Zealand, Scotland, and Uganda.